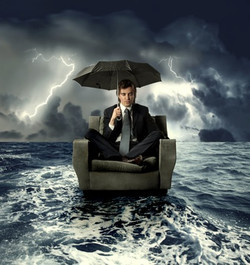 More than half of IT and security professionals worldwide believe their company's laptops and other mobile devices pose security risks to their organizations, and only half of them have CEOs who are strong advocates and supporters of data security efforts, according to new report issued today.
[Rich opinion: Information Technology (IT) is nothing but "chop wood and carry water". Technology leaders must be so much more than technologists with business titles. They must be strong business leaders to successfully participate in risk management. In the end, it's all about money, politics, and time value. Are you part of the accountability or part of the risk?]
Security and IT pros in the U.S. tend to be more pessimistic about security than their counterparts in other parts of the world. U.S. firms were also less inclined to consider compliance helpful to security of their endpoints — 44 percent of U.S. companies said regulations improved their endpoint security, versus 54 percent in Germany, and 50 percent in the U.K.
The new Ponemon Institute report, "State of the Endpoint: IT Security & IT Operations Practitioners in the United States, United Kingdom, Australia, New Zealand & Germany," which was commissioned by Lumension Security, also found that IT security is more worried about endpoint security (60 percent) than IT operations (53 percent), as well as other signs of inadequate communication and collaboration between the two groups.
Only 40 percent of U.S. IT and security pros said their CEOs were strong supporters of data security efforts, and while 77 percent of German firms and 57 percent of U.K. firms said their networks are more secure now than a year ago, only 44 percent of U.S. firms thought so. Only 42 percent of Australian firms said their networks were more secure this year than last. Around 53 percent of all firms expect their security spending to remain flat, according to the report.
Source: http://www.darkreading.com/security/client/showArticle.jhtml?articleID=221800348&cid=ref-true